Writers copyright
Fact sheet P-12

Issued: 9th July 2004
Last amended: 29th October 2019
Fact sheet P-12: Writers copyright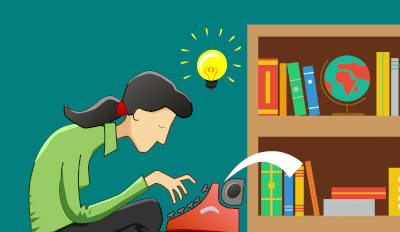 Discussing authors and writers copyright issues, general information, and copyright protection advice for literary works
Copyright notices

It is strongly recommended that you properly mark your work, and using notices will make it clear that your copyright exists in your work. Please see fact sheet P-03: Using copyright notices for information on wording you notices.

Position of the notice

For books and manuscripts, the copyright notice should appear at the beginning of the book, inside the front cover, on the first page, or on a page before any other content. For single page documents such as poems, the notice will typically appear at the foot of the page.

With all literary works, the key point is that you notice should be apparent to the reader as soon as they start reading your work.

Using the work of others

If you include quoted passages, illustrations, images or other items in your work which are not of your own creation. It is important to ensure that you have permission to use these before any publication or sale. If permission is given as a personal agreement, (rather than a formal contractual or licensing agreement), you should still ensure that you have some documentation, signed by the owner of the work to prove that permission has indeed been given.

Copyright registration

When to register

The basic rule we apply is that your work should be as complete as possible, but it should always be registered prior to submission to interested parties or any online publication.

If you are making speculative submissions of your synopsis, or draft to publishers for review, or possible contract, you should certainly register prior to this, as you will not necessarily know how reputable the companies are, or how they will use your work.

Registering your work

For advice on registration, please see our fact sheet P-25: How to register literary work.

Should I ever give up my copyright?

Of course, if you have a publisher, it is normal to release certain rights in order for your publisher to fulfil his role, but we would never recommend that you give up your copyright claim on a work.

What are moral rights?

Moral rights are concerned with the protection of the reputation of the author. There are two fundamental moral rights that belong to the author of a copyright work.

Moral rights exist separately from economic rights and cannot be sold or given away, but some contract may ask for rights to be waived. This is not generally recommended, so ensure it is in your best interests before you enter into such a contract.

The right to claim authorship
The right to object to any treatment of the work which would be 'prejudicial to personal honour or reputation'.


Legal requirements for publishers

In many countries publishers and distributors of books and journals have a legal obligation to submit copies of each of their publications to a national library or a number of libraries.

For example in the UK and Ireland publishers must submit a copy of all publications to the British Library within one month of publication. There are five other deposit libraries in UK who may all request copies of publications, these are the Bodleian Library in Oxford, University Library Cambridge, the National Library of Scotland, the Library of Trinity College Dublin and the National Library of Wales, though submission to these five may also be made via the Agency for the Legal Deposit Libraries (ALDL).

A list of deposit libraries for all countries can be found on https://en.wikipedia.org/wiki/Legal_deposit.

This fact sheet is Copyright © Copyright Witness and protected under UK and international law.
The use of this fact sheet is covered by the conditions of a Creative Commons Attribution-Non-Commercial-No Derivative Works License.
This fact sheet is intended only as an introduction to ideas and concepts only. It should not be treated as a definitive guide, nor should it be considered to cover every area of concern, or be regarded as legal advice.